We are Discalced Carmelite Nuns whose major vocation is prayer for all people. Also for you. We are cloistered, which means that although we are separated from the outside world, we are still very close to its problems and well aware of cares and sufferings of others. We live as a small community, intertwining our time of prayer with work according to the rhythm established by age-old religious practices of nuns and monks. Work, solitude and silence are conducive to remaining in God's presence and directing all our time towards eternity. This is our ideal and principal aim to which we aspire throughout all our life.
Our regular everyday life is also affected by ordinary and down-to-earth matters. That is why as part of our AID Project we dare plead your help and support in taking care of our place of prayer, our Carmel.
What is it about?
We live in the old part of Kraków in an old convent. The building itself and architectural solutions used in the past served quite well for very many years, but they are no longer sufficient, and in great need of repair. At present we are facing three extremely important challenges: replacing two historic entrance gates, rebuilding the access road and renovating the refectory.
What are we collecting money for in the 1st phase of our AID Project?
The replacement of the two entrance gates and the reconstruction of the walls: 322.000 PLN
(the cost is enormous because our convent has been entered in the national register of historical monuments)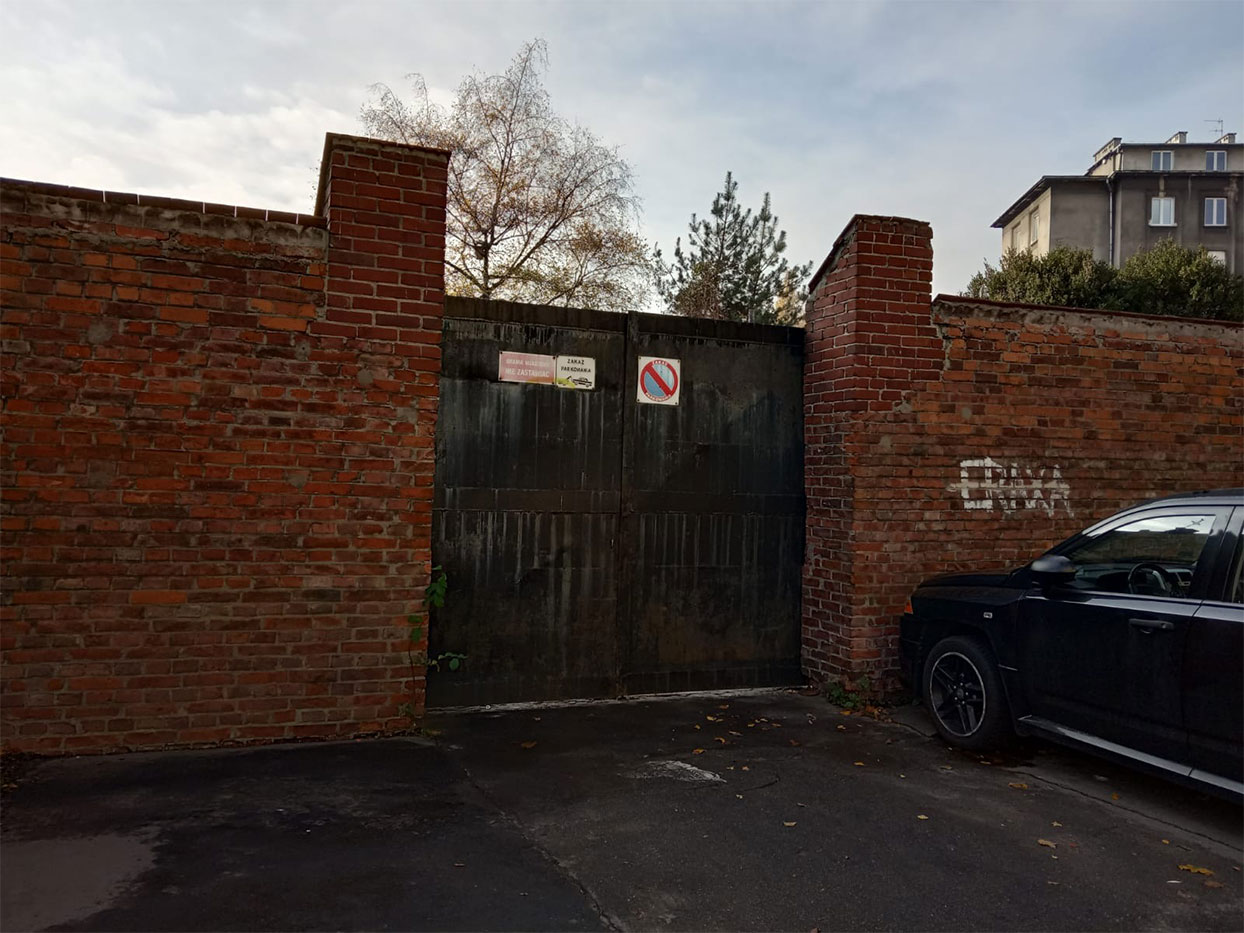 Entrance gate
It is too narrow for vans, municipal service and fire engines. In case of emergency, for instance, a fire brigade would have a difficult access to the convent, which might cause an immense danger.
The present entrance gate constitutes part of the whole complex which is under supervision of the conservator of monuments who gave permission for the required replacement on condition that the new gate should retain the same style and be consistent with the entire architectural design. The replacement of the gate is also strictly connected with the need to reconstruct the historic walls on its both sides, which in effect significantly increases the total cost.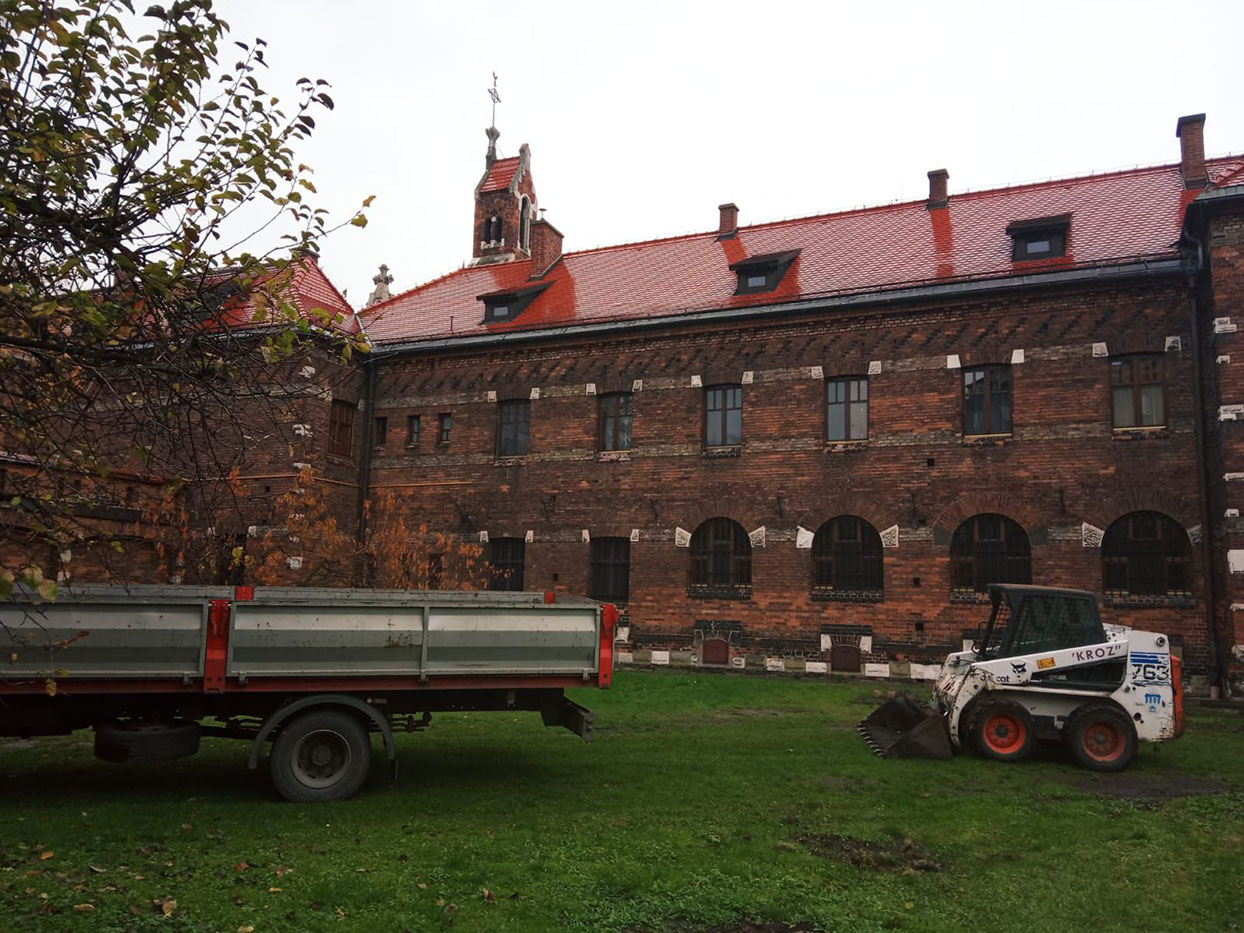 Road
The work connected with the gate does not solve all the problems because behind the gate there are still several dozen meters of dust driveway which turns into deep mud when it rains. Drivers often refuse to drive in for they are afraid of getting bogged down in the mud, which once actually happened. Making the access road to the convent is crucial for commencing any renovative works. Besides, it is indispensable to secure proper medical care for sick sisters – it means safe arrival of an ambulance if it is required.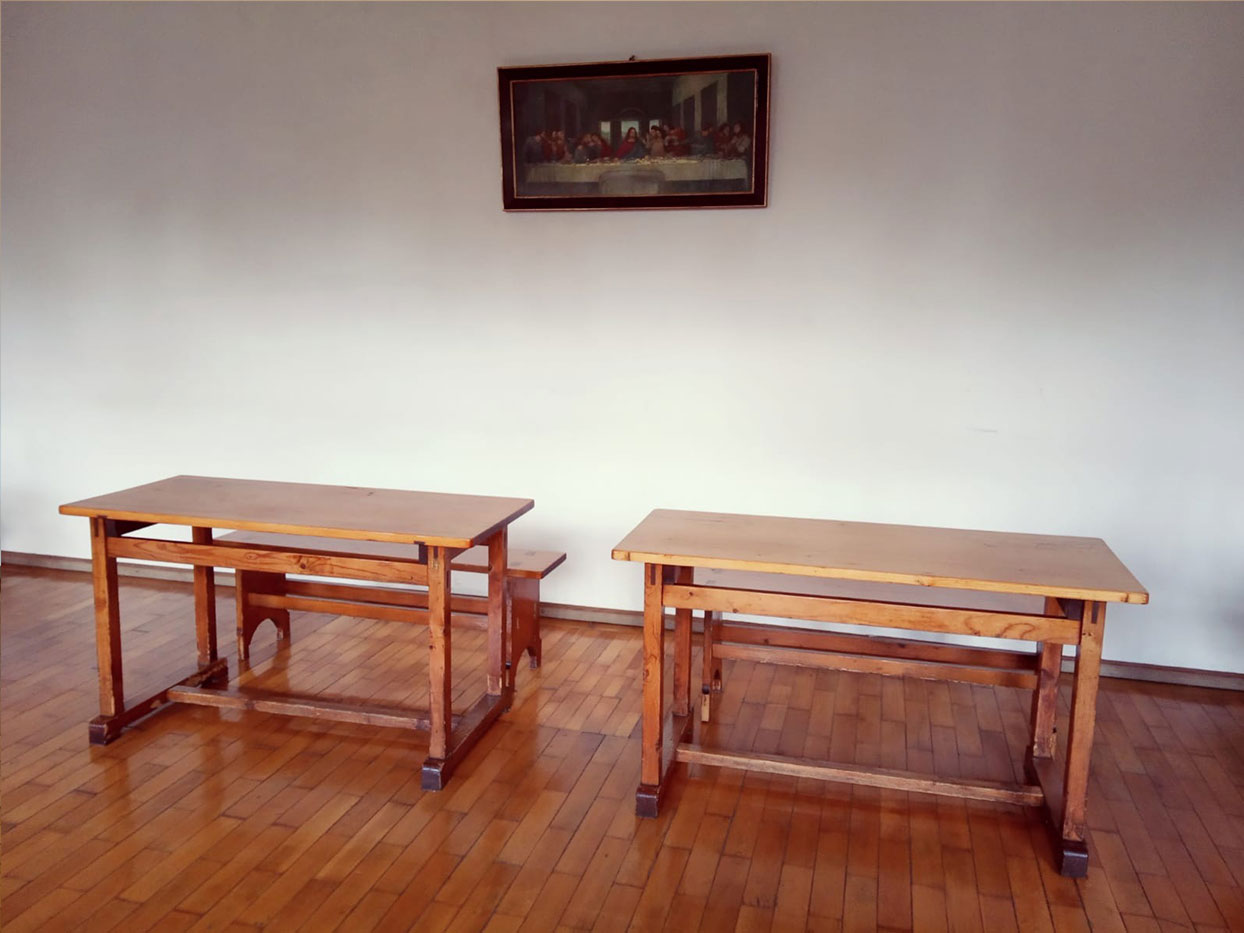 Refectory
It is the place where we get together for meals and prayer. The previous renovation of the refectory took place very many years ago. Heavy air pollution in Kraków is responsible for black dust settling on the walls which become darker every year. The electrical installation in the refectory should be replaced, and the parquet floor, already worn in many places, ought to be repaired and sanded down.
In addition to all these urgent needs we also have our small dream – that is new tables and chairs. It is not a matter of luxury, but only because the old ones, through the years of usage, are in a very bad state.
Can you help us? We will show our gratitude with the only thing we can offer,
our prayer in your intention.
Current sum of donations paid in so far:
Do tej pory dzięki Darczyńcom akcji Odnów Klasztor zebraliśmy już 400743.03 zł z 622000 zł
Renovate the convent
Show your concern about that place of prayer, in which God abides in a very special manner. The convent is His home, where we can remain in a spiritual proximity with Him, rejoicing in that singular friendship to which we have been invited. We humbly ask for your help so that the worries and anxieties for everyday upkeep should not overshadow that which is most important in our vocation. Be assured that your generosity will be reciprocated with our prayer in your intentions.
BECOME OUR BENEFACTOR
Help us renovate the convent and show your concern for the place of prayer
Electronic transfer – Internet
You can transfer your money through the Internet. Fill in the form below and click "Pay". You will be moved to DotPay.
Karmelitanki Bose
ul. Łobzowska 40
31-140 Kraków
Account number:
54 1240 1431 1111 0000 1046 3990
Title:
Donation – renovate the convent
Transfer from abroad:
Account in PLN
IBAN: PL54 1240 1431 1111 0000 1046 3990
SWIFT: PKOPPLPW
Account in USD
IBAN: PL34 1240 1431 1787 0010 4545 7507
SWIFT: PKOPPLPW
Account in EURO
IBAN: PL74 1240 1431 1978 0000 1046 4027
SWIFT: PKOPPLPW
PAYPAL
You may also support us making use of PayPal